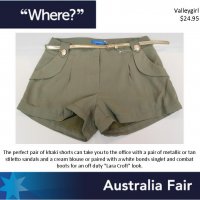 Shop `till you drop at the Australia Fair Shopping Centre and explore 230 stores spread through 59,540 square metres of land. The Centre offers dual-level regional shopping, from Coles, Kmart, Sam's Warehouse, Woolworths, Best & Less, and much more.
Two food courts that can seat to as much as 900 people are also within the Shopping Centre. The Broadwater Food Court allows customers to take in the stunning views of the Broadwater and the Southport Spit. The Fig Tree Courtyard is situated in an open-roofed retreat that allows customers to bask in the sunny weather of the Gold Coast while savouring their meals. A few food court retailers include Subway, KFC, Hungry Jacks, McDonalds, Donut King, Boost Juice, Zarraffas Coffee, The Coffee Club.
Parents who are too busy to mind their kids can avail of childminding services for a fee at Kharacter Kids Childminding Centre near Kmart.
If you want to watch a movie, get your cheap movie tickets at Birch Caroll & Coyle.
Parking is not a problem at Australia Fair Shopping Centre since more than 2,500 cars can fit in the area, with most vehicles safely undercover from the heat and rain. Plus, parking is free for the first three hours.
Trip Advisor Contributor "Ruth O" recommends Australia fair Shopping Centre for "..all shopaholics!"
"Australia Fair is a shopping center stuffed with great bargains, restaurants and PARKING!! Free parking for the first 3 hours of your visit. (Hint - be sure to check this feature out and then keep the parking ticket handy as time flies when you are having fun!!). The fourth hour is EXPENSIVE. We found good prices on a variety of clothing - ladies', men's and children's, groceries, household goods, gifts, jewelry. It is centrally located - a bit difficult to get into the parking with the street construction, but worth the effort. Don't miss the street level shops which have the entrances from the sidewalk. Enjoy!! We did."

However, Trip Advisor Senior Reviewer "Zogalog96" finds the Centre "Horrible."

"Worst place ever, come here everyday after school and it is disgusting. An eyesore to Southport, horrible atmosphere and the only good thing there is the sushi near Woolworths."
Another Trip Advisor Contributor "grandman2013" describes the Centre as "Fast becoming China Fair."
"…The caucasian owned business are being asked to increase the rent to 300% of their current lease. They are disappearing and cheap Asian business's replacing them. Not my statement, just saying what I have been told by the business closing down. Free 4 hour parking has been reduced to 3 hours so the once pleasurable time of browsing, having a coffee and something to eat and maybe a movie, has now changed to a hurried shopping trip when you take into account, parking the car, going around the shops and getting your car out within the 3 hours. Many old shoppers like me are going to other shopping centres with free unlimited parking."

Trip Advisor Reviewer "kendra h" found "Everything in one building" thanks to Australia Fair Shopping Centre.

"This mall has everything you could want in one spot the sales are terrific. Easy access to parking and entering the shops. So good went there twice."

If you have been to the Australia Fair Shopping Centre, place your opinion on the comments section below.

The Australia Fair Shopping Centre is located at 42 Marine Parade, Southport
Gold Coast, Queensland 4215. It is a quick drive from our Chevron Resort.
For more information, call 07 5556 6633, email [email protected] or go to http://www.australiafair.com.au.

Book your stay now at our Chevron Resort by visiting http://karanapalms.etourism.net.au so you can be near Australia Fair Shopping Centre.
Image Source : Australia Fair Shopping Centre