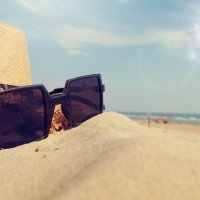 Summer may be waving goodbye, with Autumn just around the corner, but that doesn't mean the days of fun in the sun are over...not on the Gold Coast! Our gorgeous climate means we can enjoy the great outdoors all year round!

The Karana Palms Self Contained Apartments offer everything you need for a relaxing get away. Ideally situated close to the bustle and excitement of Surfers Paradise, yet tucked away on gorgeous, laidback Chevron Island, Karana Palms Resort offers you the best of both worlds! These comfortable, one bedroom apartments include a spacious balcony or courtyard, in room laundry facilities and a well appointed kitchen. Perfect for couples or small families, you'll soon realise why Chevron Island is regarded as a little slice of paradise!

Maybe you're heading to the Gold Coast for one of the many world class events being held there in 2020. April is shaping up to be a great month, with plenty to see and do! Don't forget all the regular attractions on the Gold Coast, too. Theme parks such as Dreamworld, Sea World and Movie World should keep you busy for a while! Have a chat to the friendly team at Karana Palms Resort who will be more than happy to help you with bookings for these attractions and much more!
So what's happening in April?
Australian Street Entertainment Carnival Surfers Paradise
Watch the streets of Surfers Paradise come alive from 19-22 April 2020, when the Australian Street Entertainment Carnival hits town! Four days of guaranteed fun await, as performers (both amateur and professional) delight and amaze spectators with everything from toe-tapping music to heart stopping acrobatics. Throw in some comedians, dancers and magicians and you've got every base covered with something for the whole family! Head into the heart of Surfers Paradise, and watch the action unfold along the famous Cavill Mall and Surfers Paradise Esplanade between 1pm and 8pm each day for an experience you don't want to miss!
Australian Surf Life Saving Championships
Move over Baywatch, and hold onto your personal flotation device...nothing represents Summer in Australia quite like our iconic Surf Life Savers! These guys and gals have been keeping Australian beaches safe for locals and tourists alike since 1907. The Australian Surf Life Saving Championships are being held on the Gold Coast this year (18-26 April 2020), so why not head to Burleigh and Broadbeach Surf Life Saving Clubs, where over 6000 competitors from 314 surf clubs around the country will meet to see who's got what it takes to be a sun, surf and sand champion! Cheer on your local surf club, or just enjoy the atmosphere!
Gold Coast Running Festival
Throw on those running shoes and get some friends together for the Gold Coast Running Festival, being held on 26 April 2020. Whether you run for fun, fitness, or just chasing the kids at bath time, why not come along and get some exercise? Events include everything from the grueling half marathon for the serious athletes out there, to the not so grueling 1km event, and everything in between. Runners start and finish at CBUS Super Stadium, just an easy 20 minute drive from Karana Palms Self Contained Apartments!
Cooly Classic Ocean Swim
Too hot for a run? Maybe the Cooly Classic Ocean Swim is more your style! On 26 April 2020 swimmers of all ages and abilities will hit the waves, starting at Snapper Rocks and finishing up at the beautiful Kirra Beach. Courses range from 5km down to 1km, perfect for less experienced ocean swimmers. Head south from your Chevron Island accommodation, and enjoy a different kind of fun in the sun!
Looking for accommodation?
Look no further than Karana Palms Self Contained Apartments, on beautiful Chevron Island. Close to all the action, but surrounded by the peace and quiet you crave on a relaxing getaway. You'll be spoilt for choice with the vast array of restaurants, attractions and events that the Gold Coast has to offer. The Karana Palms Resort has everything you need for a great holiday, and more. A tropical style landscaped pool beckons, for when you've had enough of our world class beaches. A BBQ area allows you to keep things simple and take the pressure off at dinner time (remember mums, DAD has to cook the BBQ. Wink, wink!), unless of course you'd rather take advantage of the many nearby places to eat out. Relax on your spacious balcony with a long, cool drink, or hit the local bars for a taste of Gold Coast nightlife. The choice is yours!

It couldn't be easier to book your next relaxing holiday. Just click here to book directly with Karana Palms Resort, guaranteeing the best price available. Book today and start planning that well earned break...you deserve it!