Posted in
Local Events
@
Dec 16th 2019 9:54am
- By Administrator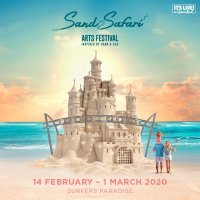 There is just so much coming up on the Gold Coast! With the summer school holidays comes a plethora of incredible family friendly events that will take your breath away, not to mention get you into the festive spirit! We have Christmas in Surfers Paradise complete with Santa in board shorts to visit in his Beach Bungalow plus a life sized snow globe to immerse yourself in, and roving carollers on the streets of Surfers Paradise!

Let's not forget the iconic Carols on the Beach sensation that brings thousands of locals and visitors alike to the sand of Surfers Paradise beach for an evening of Christmas music and entertainment. Of course the highlight might just be New Years Carnival on the Esplanade, with thrill rides, entertainment, and family fun in the lead up to welcoming in 2020 with the spectacular fireworks display over the Pacific Ocean.

Early January welcomes the adrenaline packed Gold Coast Magic Millions raceday, where you can join other racing enthusiasts in your finest fascinator at the Gold Coast Turf Club. Watch the races, cheer on your favourites, try your luck with a bet or two, eat, drink, and enjoy celebrating with your friends or family.

But of course February welcomes back one of the most well loved annual Gold Coast events bringing thousands of spectators each day to enjoy all the wonders, entertainment, and activities that make up the Sand Safari Arts Festival 2020. If you've never heard of it before, you're in for a treat!
What is Sand Safari?
From the 14th of February to the 1st of March, Surfers Paradise beach is transformed into a fairy tale wonderland of magic, stories, and imagination. Fifteen internationally renowned artists will go head to head in moulding and sculpting two hundred and seventy tonnes of sand into larger than life pieces of art that showcase your favourite characters and story lines from fairy tales that you know and love.

Over seventeen days you can stroll along the Surfers Paradise Esplanade and marvel at the massive art installations before you, as well as take part in free family friendly activities, and enjoy live shows and entertainment. Cavill Mall itself will find itself at the mercy of certain sea creatures sporting huge tentacles, and will as as host to a gallery of fairy tale inspired artworks from amateur artists right through to established international creatives.

The sculptures will be judged and awards handed out for both the official ASSC Award (presented 16th Feb) and the People's Choice Award (presented 29th Feb). You can cast your vote for your favourite sand sculpture when you make a gold coin donation at the event. There will be a Storyfest pop up beach library where you can enjoy reading and losing yourself in fairy tale land, and don't forget to look out for Jack climbing his beanstalk in the streets of Surfers Paradise, as well as join in on the Mad Hatter's Tea Party. If you're lucky you might find yourself riding on Aladdin's Magic Carpet, stepping inside the Castle of Ever After, or taking a selfie in the evil Queen's magic mirror. Don't forget to watch the sculptors in action as they create their masterpieces on the beachfront!

This is truly a free family festival that won't be forgotten any time soon. The only question is, how big is your imagination, are you ready to sing, dance, play games, immerse yourself in fairy tale magic and creation, and learn how art can integrate itself into Surfers Paradise city life where there's a surprise around every corner.
Where is Sand Safari 2020?
If you've booked a stay at Karana Palms Self Contained Apartments February or March in 2020, you'll be delighted to hear that getting to Sand Safari Arts Festival is as simple as can be. Parking can be a challenge due to the amount of visitors attending, but that's no issue when the Surfers Paradise Beach is just a short 11 minute walk from our Chevron Island location. The festival itself is spread along the Esplanade and will be hard to miss, with soaring sand sculptures visible as soon as you near the shoreline.

You can visit as many days in a row as you like, with different family friendly activities to enjoy each day of the festival. After big days exploring and exercising the imagination of your little ones, you will love coming back to your comfortable Chevron Island holiday apartments. Soak in the pool, unwind with a fairy tale movie at the end of the day, and get a great night's sleep in preparation for another wonderful day of exploring the Gold Coast.

Our one bedroom self contained apartments accommodate up to 4 guests, and have full kitchens to prepare all of your favourite family meals, as well as laundry facilities for those inevitable sandy outfits after spending the day on the Surfers Paradise Beach. Don't forget to pack swimwear for your adventure to the Sand Safari Arts Festival, as the Surfers Paradise beach is world famous as a breathtaking swimming spot and safe patrolled beaches perfect for families.

Whether you just pop in for a peek, or spend day after day making the most of the festival, you can enjoy it to the maximum in your own way with a stay at Karana Palms self serviced apartments.