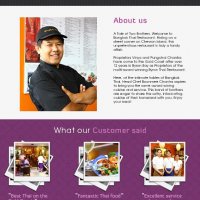 Bangkok Thai Restaurant offers you intoxicating and award-winning cuisine as created and prepared by the proprietor of the similarly award-winning Byron Thai Restaurant, Chef Boonmee Chantra.

The staff in Bangkok Thai are more than ready to share with you their exotic homeland cuisine.

Urban Spoon Reviewer "LKendall" describes the food and service at Bangkok Thai as "Amazing."

"
Amazing food! Amazing service. But make sure you make a reservation! They are super busy. 
"


Another Urban Spoon Reviewer "djl" cites Bangkok Thai as "Great!!"

"The food was great!! Service was great!! And bit too expensive!!...Well worth the short walk, compared to the other Asian places around Surfers Paradise."

Trip Advisor Contributor "Maxi1414" describes Bangkok Thai as "Reasonably priced, great food."

"After being seated at the very busy restaurant, it was a bit of a wait for service but the food was worth it. The meals are of a good proportion size and the restaurant is licensed and BYO wine. The prices are reasonable for the Chevron Island strip with our meal of two dishes and rice coming to $40.00. The restaurant is extremely busy and a little noisy if you have trouble hearing but a night we enjoyed."

Trip Advisor Senior Contributor "naej" calls Bangkok Thai as his "..favorite local restaurant."

"I am not going to tell you how good this place is because every one else has already done that. My friend and I usually share two starters and one main with rice. That does us nicely. We have been many times. It is BYO which is good."

Bangkok Thai Restaurant is unpretentiously located at 2/62 Thomas Drive Chevron Island QLD 4217 on a street corner on Chevron Island's Surfers Paradise. It is a quick walk from our Chevron Resort.

For more information, call 07 5539 9348 or go to http://www.bangkokthaionchevron.com.au.

Book your stay at our Chevron Resort so you can be near Bangkok Thai Restaurant.
Image Source : Bangkok Thai Restaurant