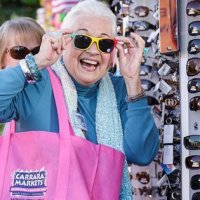 Karana Palms is ideally located in Surfers Paradise close to some of the most sought after tourist attractions. Most of the attractions are just a few minutes away. Have your fill of shopping, dining and entertainment. Book your stay at our Chevron Apartments.
Shop to your heart's content. Go on a well-deserved break and splurge on clothes, gadgets, shoes and accessories and other must-haves. Our apartments are near shopping centres such as Pacific Fair Shopping Centre, The Oasis, Australia Fair, Harbour Town and many others. Shop at Marina Mirage and see high end designer clothes. Head over to Tedder Avenue and browse through the chic boutiques that sell anything from vintage clothing to designerwear. Grab a cup of coffee in between shopping breaks. Bring your friends along and make a day of it.
There are also other shopping destinations such as Carrara Markets that sell unique products at bargain basement prices. Foodies can shop for gourmet treats at the farmers markets. Surfers Paradise also has beachfront markets that sell colorful souvenirs.
Our resort is also close to a plethora of dining destinations. Have your pick of Asian cuisine, European food, or Australian fare. There are also cafes, bars, bistros, pubs and dessert places. Go on a foodie adventure on the Gold Coast.

After all that shopping and dining, you can also opt to simply relax on the beach. Spend a lazy afternoon swimming, surfing, sunbathing, kayaking and more. Catch breathtaking sunsets on the beach. Kick back, relax, and watch the world go by.

Karana Palms has one bedroom apartments that are fully self contained and complete with all the amenities you will need. Apartment amenities include a large balcony or courtyard, laundry, air conditioning (extra charges apply), TV, ceiling fans, and a double sofa bed in the lounge room. The rates are for two people, but the room can actually cater to a maximum of four guests. Share a room with your friends and have a blast.

For booking information, please visit http://karanapalms.etourism.net.au
Image Source : Carrara Markets