Posted in
Local Events
@
Aug 7th 2019 4:24pm
- By Administrator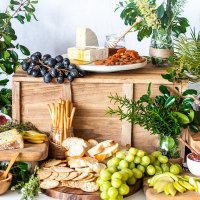 If cooking is one of the greatest joys in your life, or even if you're just starting out on your culinary journey and are just curious more than anything, you'll love the upcoming events for food lovers on the Gold Coast. Our self-contained holiday apartments on Chevron Island have everything you need to put your new cooking skills to the test, and you'll be whipping up delicious dishes in your own full kitchen for your family or friends.

So where to go to turn up the heat, so to speak? We are glad you asked!

Cooking Adventures Around the World: Indian Delights
On the 22nd of September the Australian School of Meditation and Yoga in their Nobby Beach shop are bringing you Cooking Adventures Around the World: Indian Delights. Run by chefs Debora Galvin and Monika Golebiowska this is a day long event that lets you learn traditional and authentic Indian cooking, plus special guest speaker Dr. Ram who will offer insight into the medicinal and health benefits of particular spices and herbs within these dishes.

This cooking workshop is suitable for anyone looking to learn some new techniques and recipes, from experienced cooks and those just starting out. The ticket price includes all the fresh food and ingredients, and you can taste everything you make plus head home with digital copies of the recipes. True to the hosts, you'll also indulge in a little relaxation and meditation as part of the day. Get more info or book your spot here.
Kids Sushi Workshops at Hero Sushi
From the 23rd to the 25th of September there's guaranteed family fun at Hero Sushi with kids sushi workshops at Robina Town Centre. Best suited for ages 5 years and older, the sushi chefs will teach kids how to use sushi making tools and fresh ingredients to make their own sushi rolls, and parents are welcome to join in the fun as well!

You get to enjoy eating the sushi you've made, and with all the ingredients provided including tuna, chicken, avocado and more you can craft your sushi your way. Grab your tickets before they sell out, places are limited.
Georgia Barnes Masterclass
Entertaining will never be the same after joining in with Georgia Barnes at the Kitchens Cooking Stage this September and October. You'll learn the secrets to creating the perfect party platter from putting together the perfect flavour combinations to creating levels or tips on presentation. Styling your platter tops it all off and using colour, fresh vibrant ingredients, edible decorations and more will have your friends marvelling at your entertaining skills at your next party. Check out the available dates and learn more here.

Of course the Gold Coast is no stranger to good food, and you can read about our favourite local eateries close to our Chevron Island holiday apartments here. Whether it's enjoying a foodie experience of learning to craft your own, you'll get a real kick out of all things food on the coast this September.