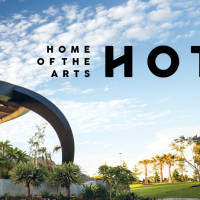 Chevron Island once had a reputation as a sleepy quiet little Gold Coast spot popular with retirees, but in recent years it's shaken off the outdated reputation and is emerging as one of the more trendy spots to stay, with modern cafes, fantastic local dining options, and close proximity to many of the most highly sought after attractions on the Gold Coast.

Set slightly away from the big city hustle and bustle of Surfers Paradise itself, you can enjoy a tranquil stay with all of the action just a short stroll away. Here are just a few of the best attractions within just a few minutes of our Chevron Island holiday apartments that you might choose to explore on your stay!
Home of the Arts (HOTA)
Home of the Arts is the cultural hub of the Gold Coast, and is just moments from Chevron Island. The recent multimillion dollar upgrade transformed this iconic Gold Coast attraction into a sensation for the senses, with your pick of phenomenal concerts, shows, workshops, festivals, dining, art, and play. Whether it's cozying up at the cinema, browsing through the collections at the art gallery, rocking out at the incredible outdoor stage for the best in live entertainment, joining the crowds for incredible annual events such as the GLOW Festival, or Kids Take Over Mini-Festival, or enjoying yoga on the lawn there's no shortage of things to do with the huge lineup of events coming up at HOTA.

You can enjoy strolling around the lake amongst the breathtaking larger than life art installations, the kids can wear themselves out on the playground or swimming area that's wave free and perfect for younger families. You can also enjoy picking up local produce or treats at the Bundall farmers markets which run every Sunday morning from 6:30am - 11:30am at the HOTA Evandale Parklands.
Southport Golf Club
Golfing enthusiasts will love our Chevron Island location, with the Southport Golf Club at their fingertips for long days on the spectacular course. Considered one of the premier golf clubs in Queensland let alone the Gold Coast, you'll be blown away by the phenomenal course designed to accommodate players of all skill levels, with starter packs available for non-members, and special offers for members of interstate or other golf clubs available.

The golf course itself is easy walking, set amongst beautiful ponds and lakes, and has gorgeously manicured turf grass for the most enjoyable day on the course imaginable. There is an on-site cafe if you fancy breakfast and a coffee before heading out to the course, and enjoy offerings from the a la carte menu as well as seasonal specials that you will love. There's also lunch and dinner dining at the restaurant, or you can dine alfresco with views of the spectacular Gold Coast skyline to tempt you through the doors.
Gold Coast Turf Club
The Gold Coast Turf Club is a first class racing venue just a few minutes drive fromChevron Island. You can try your luck and enjoy a day of punting, dining, and enjoying times with friends. Get decked out in your best frock, or the fellas can suit up, and head through the gates to enjoy a glass or two of bubbly, the adrenaline pumping thrills of cheering as your favourite horse nears the finish line, and if you are lucky you might even come home with some winnings to spend on the rest of your Gold Coast holiday!

With great annual events such as Magic Millions, and Melbourne Cup, as well as private functions or just general entry for a great day out, you'll love being so close to the Gold Coast Turf Club for your Gold Coast holiday.
Budds Beach
The quiet and idyllic local spot that is Budds Beach is on the Nerang River, so it's the perfect spot for families with little kids to enjoy with calm tranquil water and great spots to have a picnic, enjoy a little fishing, play on the playground, or just enjoy a lovely afternoon stroll in a tropical setting with sparkling water views. There is a boat ramp to dock boats or a jetski if you have one, and a sweet cafe that you can stop at for a coffee or a bite to eat.

You can easily walk to this tranquil setting in just a few minutes from Karana Palms, and it's the perfect place to wind down and enjoy the fresh ocean breeze and sunshine away from all of the busyness of the city.
Skypoint Observation Deck and the Q1 Building
The famous Q1 building is a fantastic place for Gold Coast visitors to check out, soaring 322.5m into the sky and is the tallest building in Australia. Take in the ultimate in Gold Coast City, Pacific Ocean, and Gold Coast Hinterland views with a trip up 77 stories to the Skypoint Observation Deck.

You will marvel at all that there is to see from up among the clouds, and you can use the high powered binoculars to zoom in on any areas of interest down below. Why not stay and dine in the sky? The Skypoint Bistro and Bar have wonderful menu items for you to enjoy. Whether a hot buffet breakfast is just what you are craving, or you would prefer to order a la carte you'll be spoiled for choice is a morning visit is on the cards. Alternatively you can select from the excellent all day menu and dine at your leisure.

Find out about more local attractions for your Gold Coast stay at Karana Palms apartments here.