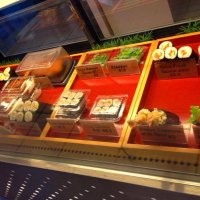 Expect quality food at budget prices as well as friendly service from Sushi Café – a place where traditional Japanese dishes are served in a relaxing courtyard dining area.

Sushi Café is also ideal for private functions.

The restaurant has been described as Chevron Island's hidden gem. Small and unpretentious, delicious dishes are served by its owner Hiro Yamada.

Local residents as well as visitors from afar are attracted to Sushi Café not just for its food but also its courtyard setting filled with subtle greenery, soft background music and candles.

Choose from the restaurant's selection of sushi and sashimi. Customers recommend Sushi Café's delicious dragon roll with its cucumber filling, cream cheese, and avocado wrapped in prawn. Fish roe is also added inside for a unique texture.

Prawn dumplings are also must-have's as well as the salmon ceviche served on a bed of shredded cabbage.

Other Japanese dishes in the menu include Sukiyaki beef, Teriyaki chicken, Karage (crispy chicken thigh fillet) with ginger soy sauce, BBQ pork.

Tempura udon soup is considered the most satisfying mainly due to its sumptuous broth, large tempura prawns, silken tofu, egg, thick wheat udon noodles.

Sushi Café is located at 49/51 Thomas Drive, Chevron Island and is a quick drive and walk from our Chevron Resort.

For more information, go to https://www.facebook.com/sushicafechevronisland or call 07 5570 1110.

Book your stay in our Chevron Resort by visiting http://karanapalms.etourism.net.au.
Image Source : Sushi Cafe Chevron Island