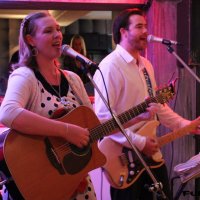 Sing karaoke, relax while listening to live music whilst being served with great value meals in one of the best bars and pubs on the Gold Coast.

Fuel Bar and Restaurant is located in the trendy shopping precinct of Thomas Drive Chevron Island.

Whether you're with family or a group of friends, it is always a great night out when you are at the Fuel Bar and Restaurant.

If you want to take part in a fun and free karaoke competition; sing to your heart's content and win great prizes, be at Fuel 7pm every Monday night.

You can also come any day of the week and expect a variety of events - from trivia competitions and many more. If you come in on a Sunday, feel free to try refreshing ciders, experience live music and share delectable plates with your mates. The menu is great and the prices cheap.

You don't have to take our word for it, see what actual customers have to say.

User "Shawnna P" went to Fuel on a Sunday night:

"We got there half way through their Karaoke line up. This was a little bit of an older crowd (45-65), but their singing skills were superior. 
We had a great time singing along to Elton John and Little River Band...
The beers are the cheapest anywhere. They have a pool table. Clean restrooms.
"

Two Google Users also gave their reviews:

"Excellent.. Great atmosphere, it's the closest you'll get to having a few drinks or a meal at home with friends without having to clean up after yourself :-)

Liked: Food, Service, Value"

"Very good.. Been going there for over 10 years - always been good value, current owners are great

Liked: Food, Service, Atmosphere, Value"

Have you been to the Fuel Bar and Restaurant? Then, place your comments below.

Fuel Bar restaurant is located at 53 Thomas Dr, Surfers Paradise QLD 4217 and is a short walk from our Chevron Resort.

Go to https://www.facebook.com/FuelBarRestaurant or call +61 7 5538 2122 for more information.

Visit http://karanapalms.etourism.net.au to book your stay at our Chevron Resort.
Image Source : Fuel Bar/Restaurant