Posted in
Local Events
@
Dec 8th 2013 10:58pm
- By Administrator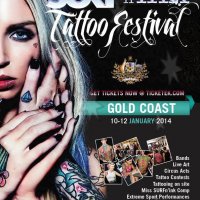 Get your very own tattoo or watch others get their tattoos at the 2014 Surf n Ink Tattoo Festival Gold Coast.

See the best tattoo artists of the world gather under one roof.

Besides tattoos, expect to see rock bands, DJ's, circus acts, pin up comps and a lot more.

When you're in Broadbeach, you not only get the best white sand, sunset and surf, you also have the opportunity to see and wear amazing art as well as hear the buzzing of tattoo machines.

The artists who will be present in Surf n Ink are considered the best in the tattoo business.

The 2014 Surf n Ink Tattoo Festival prides itself on ensuring that the artists present in the festival possess excellent skills. All the tattoo artists go through a screening process prior to being granted access to the event. This ensures that only quality professionals will be at the Surf n Ink.

Expect non-stop excitement, entertainment, unique retailers and – of course – tattoo artists.

The Gold Coast has been dubbed as the tattooing hub of Australia thanks to the active tattoo community within the area.

The 2014 Surf n Ink Tattoo Festival will take place on January 10 to 12, 2014 at the Gold Coast Convention and Exhibition Centre
Cr TE Peters Drive and Gold Coast Highway
Broadbeach, QLD. The event is a quick drive from our Surfers Paradise Resort Accommodation.

For more information, go to http://www.tattoofestival.com.au/gold-coast.

Book your stay in our Surfers Paradise Resort Accommodation by visiting http://karanapalms.etourism.net.au/.