Posted in
Local Events
@
Aug 21st 2019 4:29pm
- By Administrator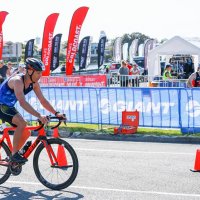 Sporting fans will be over the moon with a Gold Coast stay in the upcoming months, with some incredible local events that will have you cheering at the top of your lungs! If supporting your favourite teams or marvelling at the physical abilities of top athletes inspires you, you'll want to make sure you include these awesome sporting events into your travel plans.
Australian Women's Master Hockey Championships
On the 5th of October Labrador on the Gold Coast will host the 2019 Australian Women's Master Hockey Championships. This incredible annual event will take place at the Gold Coast Hockey Centre in the Nikki Hudson Centre. It is an annual competition that sees the best of the best go head to head on the field. State and territory teams will battle it out to take the national title and Australian representative teams are announced after the competition.

This is your chance to catch sight of the best athletes in women's hockey and cheer on teams from your home state.
The National Gymnastics Carnival
This 18 day festival celebrates all things gymnastics at the Gold Coast Sports and Leisure Centre from the 11th to the 29th of September. Over 5000 competitors will be heading to the Gold Coast to take part in this competition. Choose from a day pass to enjoy your favourite competition, or an event pass to take in every moment of this incredible festival.

From acrobatics, artistic and rhythmic gymnastics, gym sport, cheer, trampoline and tumbling you'll see the very best competitors from all over Australia as part of the National Gymnastics Carnival, all in world class facilities in Carrara that hosted the 2018 Commonwealth Games. View the program and grab your event passes here.
Queensland Triathlon Series
Running on the 28th and 29th of September the Gold Coast welcomes the Queensland open water swim and round 1 wave of the Queensland Triathlon Series. The 500m, 1000m, and 1500m open water swims will take place in the protected lake in Robina. The round 1 wave on the flat race course at Robina with an optional swim comes in olympic or sprint categories and also includes options for the kids 7 years and older.

Whether you're just getting a feel for competing in triathlons, want to involve the family in the sport, or are a seasoned competitor looking for a challenge, the Queensland Triathlon Series has everything you need to push yourself to the next level. Find out more, enter the competition, or get the details so you can cheer on the competitors here.

With all of these fantastic events lined up in September, there's never been a better time to book a Gold Coast visit. Check out our contemporary full self contained holiday apartments on Chevron Island here.