Posted in
Local Events
@
Jul 24th 2013 8:47am
- By Administrator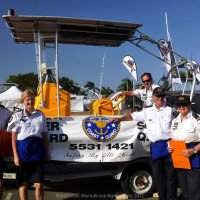 Bring your family to a fun friendly event that is also free of charge!

The Gold Coast International Marine Expo showcases anything and everything related to all leading marine brands. See kayaks, superyachts, jet skis, accessories, fishing rods and more.

Kids will surely love the activities lined up for them during the entire three-days of the expo. Face painting, live demonstrations, factory tours, on and off-the-water attractions and international food stalls can be had.

Adults who love boating and getting out on the water will similarly love the Gold Coast International Marine Expo as it is the only "Working Boat Show" that is held inside facilities touted to be as the largest boat manufacturing plants and shipyards in Australia. It provides spectators with a unique behind-the-scenes view and is a perfect event to bring exhibitors and enthusiasts together.

A few of the attractions in the expo include Flyboard X, an extreme water sport that makes use of a jet-powered machine that allows it to propel underwater and in the air making it easy to perform freestyle stunts and even a dolphin dive; the Yamaha Supertank Fishing Show provides spectators a fish's eye view of lures thereby helping you to know a fish's reaction to various techniques used by top anglers; the Club Marine Cooking Demo with Bart Beek brings you a wealth of culinary knowledge, humour and energy straight from Club Marine's resident chef.

Other demonstrations in the expo include a 50 Tonne Travel Lift where a vessel will be lifted out of the water, maneuvered around on the hardstand and returned back safely in the water; the Riviera Seminar is where you can see how a Riviera boat is designed using 3D computer aided design systems.

The Gold Coast International Marine Expo is a not-for-profit event that will take place on November 1 to 3, 2013 at 76-84 Waterway Drive
Coomera, Gold Coast
QLD, 4217. It is a short drive from our Chevron Apartments.

For more information, call 0447 758 884 (Mobile), email [email protected] or go to http://gcmarineexpo.com.au.

Book your stay now at our Chevron Apartments by visiting http://karanapalms.etourism.net.au so you can be near the Gold Coast International Marine Expo.
Image Source: Gold Coast International Marine Expo