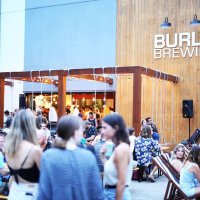 If you're looking for a place to hang out and chill, try these cafes and bars near our hotel.
Burleigh Brewing Company
The company has core values of character, soul and balance. Burleigh Brewing Company does not cater to trends. Their beers are the real deal. Their goal is to create a local world-class beer that stands out. Burleigh Brewing Company has been in business for many years. With their latest expansion, they have reinvented themselves.

Visit their brewery and tap house every Friday, Saturday and Sunday. Sample their ice cold refreshing beer. Open yourself to new tastes. Drink a cold brew right where it is made. Explore the brewing facilities and gain an understanding of how beer is made. Learn about the history of beer. The tap house also features local musicians and food. You can look forward to a fun weekend of great beer and great company.

Burleigh Brewing Company is located at 2 Ern Harley Drive, Burleigh Heads.
Currumbin Beach Vikings Surf Life Saving Club
The life-saving surf club is an institution. Drawing visitors and wowing them with breathtaking views, the club is a great place to be.

It is near the Gold Coast International Airport. Enjoy heart-warming comfort food with a killer view of the ocean. Treat yourself to a hearty breakfast, lunch and dinner. It is located at 741 Pacific Parade, Currumbin.

Our Chevron Resort is ideally located on the Gold Coast near these restaurants. Have a great holiday and enjoy tons of good food and drinks. We have one bedroom apartments which feature a large balcony. Enjoy the sights from the balcony. There's also a kitchen for cooking breakfasts as well as a double sofa. Bring your friends since the apartment can fit four people.

To learn more, visit https://www.karanapalms.com.au/apartments.