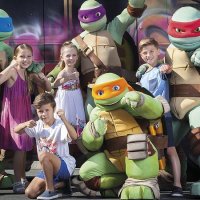 Are you taking the kids on a lovely day at Sea World? Then you have to make sure you plan your visit in Gold Coast's premier marine animal park as Sea World features several rides, animal exhibits and many other attractions.

Need help? Below are a few of the many things you can see and experience at Australia's number 1 marine park.
The Precincts
There are currently two precincts: Nickelodeon Land and Castaway Bay. Sea World's third precinct called The New Atlantis will open later this year.

Going back to the first precinct. Nickelodeon Land is obviously Nickelodeon-themed. It features three areas namely: the battleground of Teenage Mutant Ninja Turtles, the enchanting world of Dora the Explorer and Boots, and Bikini Bottom. Each of these features character rides which are perfect for the little ones.

Aside from these, there is a fourth area called the Nickelodeon Stage where live shows are held daily. Here your kids can also meet and greet their favourite Nickelodeon Characters.

Now for the second precinct called Castaway Bay. This is an interactive adventure playground. It has a Castaway Bay Battle Boat Ride, a Sky Fortress and a Sky Climb. With the activities featured in this area, the Castaway Bay is more suitable for bigger kids.
The Rides
Speaking of bigger kids, there are also several other rides your family can try. If you are a thrill-seeker, don't miss the chance to try the park's largest thrill ride called Storm Coaster. For a high-speed thrill of up to 70km/hr, the Jet Rescue is the perfect roller coaster.
Animal Adventures
Now if they want animal encounters, there are several exhibits and presentations you can visit such as Sea Jellies Illuminated, Affinity Dolphin Presentation and Seal Guardians Presentation to name a few.

But if your family is interested in a more up close and personal encounter, Sea World offers various animal adventures. You can go behind the scenes at Polar Bear Shores. You can meet a Dolphin. You can also go snorkelling at the park's Tropical Reef lagoon. You can even be a trainer for a day. The choice is yours.
Where to stay?
Now that you have an idea of what to see and experience in Sea World, it's time to know where you should stay.

For ease and convenience, a Surfers Paradise resort accommodation on Chevron Island is a lovely idea. Karana Palms Resort is located within a quiet setting which is just close to several attractions including Sea World. This means that you can relax and unwind in a peaceful area after a fun-filled day.

You are also welcome to use the resort's onsite facilities such as an outdoor swimming pool, and barbecue area. When it comes to the accommodation itself, Karana Palms Resort has fully self-contained one-bedroom apartment units which are well-equipped and feature a balcony or courtyard where you can savour the Gold Coast's sunshine.

Are you ready for your family holiday? Then book your stay at Karana Palms Chevron Resort today! The resort's friendly team can also help you arrange your theme park tickets; not to mention, hinterland tours, dinner bookings and many more.