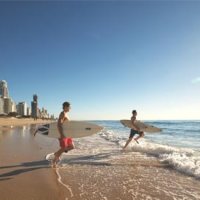 What is it about a stay on Chevron Island that makes your Gold Coast holiday stand out from all of the rest? We explore some reasons why booking a stay in this beautiful spot is guaranteed to leave you smiling, and coming back year after year.
The location
Chevron Island is adjoining Surfers Paradise, but without the big city hustle and bustle. It's just a short stroll from all the action of the top attractions like the Gold Coast Wax Museum, the vibrant nightlife of Cavill Avenue and Orchid Avenue, the iconic Aquaduck experience, and a multitude of water activities from surfing to fishing charters, and whale watching tours to speed boat rides.

It also offers easy access to the many other Gold Coast attractions such as the theme parks, wildlife parks, the beautiful Gold Coast hinterland with a plethora of hiking trails, waterfalls to explore, and even a treetop walk or two. A day trip out to the selection of wineries, or exploring Mount Tamborine never goes astray.

Of course the Gold Coast is well known for its stretches of pristine white sandy beaches and crystal clear surf. When you wish to simply swim and soak up some sun, snorkel or scuba dive, or even learn how to surf, this is the ideal place to do it.
The food
The Gold Coast has become a foodies delight in recent years, with a huge range of restaurants and cafes lining the streets of Surfers Paradise, Broadbeach, and Chevron Island itself. The Star Casino is highly reviewed with many offerings from the finest cultural cuisine to light snacks with a casual drink at the Garden Bar.

Chevron Island offers a selection of dining opportunities just a short stroll from our holiday apartments, perfect for a lazy Sunday morning breakfast in the sunshine but away from the busier streets of Surfers Paradise itself.
The attractions
There's simply too much to see and do on the Gold Coast to take it all in with just one visit. This is why many travellers return to this warm sunny haven again and again. The warm climate makes it a favourite winter getaway for those living in cooler parts of Australia, and the laid back coastal vibes are the perfect escape from big city life, but with adventure and exciting experiences at your fingertips.

Make sure you check out our fully self-contained one bedroom apartments on Chevron Island and start planning your next adventure to the beautiful Gold Coast!