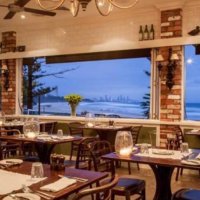 Enjoy these restaurants close to our hotel.
The Fish House
The Fish House is ideally located close to Burleigh Beach. Enjoy stunning views of the ocean as you dine on fresh and delicious food. The food is top-notch, and the service is excellent. The restaurant is open for lunch and dinner. Choose exquisite wines from the wine list.

The fish is cooked and served fresh daily. The team of international chefs cook seafood to perfection. Try their famous Patagonian Toothfish stewed in miso sauce and topped with spring onions. The Coral Trout from Cairns is another must-try. It is steamed and infused with shallots and ginger. John Dory is braised with caramelised onion and white wine. These delicate dishes are just some of the offerings of this favourite seafood restaurant.

The Fish House is located at 50 Goodwin Terrace, Burleigh Heads.
Carmody's Restaurant and Bar
This award-winning restaurant serves modern Aussie favourites. Sous Chef Nathan Hay creates a unique menu. The wine list is highly recommended as well. Carmody's is all about sustainability using local and organic ingredients.

They have a large selection of a-la-carte dishes which include oysters, steaks, and grilled dishes. Their steak dishes are to-die-for. The meat is sourced from organic farms. They also offer vegetarian and gluten-free options. There are also starters, desserts and three-course meals.

Enjoy dining at this elegant restaurant which serves sumptuous savoury dishes and fine wines. Bring your family and friends. Start the weekend with a delicious dinner. Carmody's has dishes and drinks that will hit the spot. Carmody's is located at Corner Musgrave and Olsen Avenue, Southport.

Our Chevron Apartments is close to the restaurants. We offer one bedroom apartments. The apartments are spacious and comfortable. Amenities include air conditioning, a kitchen, a balcony and laundry facilities.
To learn more, visit https://www.karanapalms.com.au/apartments.