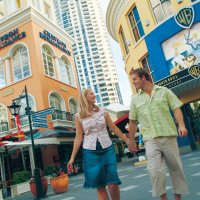 When you check-in to our Self Contained Apartments Gold Coast, prepare to see kilometres of sweeping golden sands, temperate surf and sparkling sky. The Gold Coast contains most of the well-loved beaches in the world.

Besides the beach, our Karana Palms Resort is in a great location for the below reasons.

Shops and restaurants

If you want to shop until you drop when you're in our Self Contained Apartments Gold Coast, you can easily do these and more as we are near a slew of shops and restaurants.

Chevron Island is a haven for shopaholics. Similarly, the area has ten cafes as well as restaurants that are more than ready to cater to all your gustatory needs.

Groceries also abound. If you are looking to fill your basic necessities, Coles and Woolies are a quick five-minute walk from our Karana Palms.

Dine in style as gourmet treats from all parts of the world are provided by the various cafes and restaurants in the area. There is definitely something for anyone and everyone. Whatever your mood, budget or taste, Chevron Island has something perfect for you.

The beach and nature

If you want to laze on the sand or take a dip in the ocean, the beach is a mere eight to ten-minute walk.

Feel free to spend a relaxing day or two amidst tranquil rainforest within the hinterland of the Gold Coast. This is a mere short drive from our resort.

Public transportation

If you want to travel in comfort anywhere you want, you easily can. Our Self Contained Apartments Gold Coast is near public transportation. Local buses are accessible from our resort and is a mere five-minute walk from the Gold Coast Highway.

What are you waiting for? Book with us now by visiting http://karanapalms.etourism.net.au.