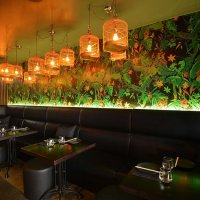 One of the best things about choosing a central location for your coastal getaway is that getting to highly rated Gold Coast cafes and restaurants is an easy as can be. Surfers Paradise and Chevron Island boast some truly incredible eateries that will impress even the most discerning foodies amongst us. Here are our top picks that are just a short stroll from our Chevron Island holiday apartments.
Tribeca NYC
As its name implies, Tribeca NYC offers up cuisine with New York vibes and the best ingredients sourced from local farmers markets primarily. You'll love the range of American style food, street food, and of course mouthwatering steaks and ribs. Almost as good as the food is the buzzing atmosphere and fantastic service.

The breakfast menu comes with your usual suspects plus a few American style dishes such as the Empire State Breakfast, 4th Avenue eggs, a range of bagels and more! Lunch doesn't get much better than Tribeca NYC if you love burgers. Indulge in a Brooklyn Slider, lobster roll, loaded fries NYC style, Yankee dog, or of course really, really good fried chicken! The dinner menu offers up delicious dishes like the Brooklyn All Star pork ribs, the Sirloin of Liberty, plus tacos, pasta, salads, and a range of burgers.
Fu Manchu Oriental Kitchen
If oriental cuisine is right up your alley you'll just love Fu Manchu Oriental Kitchen. Modern Asian fusion with a sharing menu to introduce you to unforgettable flavours and an adventurous dining experience you won't soon forget. Throw in some hand crafted cocktails and you're in for a delightful evening nestled amongst stylish Asian decor that's the perfect spot to stop for a bite to eat before heading across the footbridge to HOTA to catch a show or movie.
Wagyu-Ya on Chevron
Australian Wagyu and grain-fed Black Angus beef has never tasted so good. This Yakiniku (Japanese style) BBQ restaurant is renowned for its interactive dining experiences, with guests cooking their own meat at the table before them. The meat cuts available are famously juicy, tasty, and highly sought after due to the higher proportion of marbling compared to more traditional cuts. Enjoy a dining experience for two at Wagyu-Ya on Chevron or come with a larger group for a real night out!
Boom Boom Burgers
A favourite amongst locals and visitors alike, Boom Boom Burgers is much more than your typical burger joint. Voted as being in the top 10 for burgers Australia wide, you'll be amazed at the incredible culinary delights awaiting you. The signature Smoking Cow burger is a top pick, presented swirling in smoke which disperses beautifully as the glass lid is lifted.

No matter which of these options you choose from, we know that you will just love dining on Chevron Island. Within steps of our self-contained holiday apartments, what's stopping you from trying them all?