Posted in
Accommodation
@
Oct 24th 2013 1:37pm
- By Administrator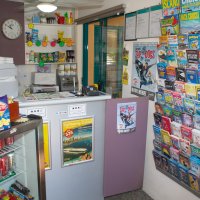 We want you to have a positively unforgettable stay in our Self Contained Apartments Gold Coast so we make sure you know where to go.

Our Tour Desk can help you plan your stay when you're in the Gold Coast. Our team can arrange and organize your trip to the hinterland and theme parks. We can book tickets for you so you don't have to. We can also reserve dinner bookings and a lot more.

Feel free to ask us and we're more than happy to help you.

Don't forget that our Self Contained Apartments Gold Coast is perfectly situated on Chevron Island. We are a quick stroll from the center of Gold Coast's popular entertainment hub – Surfers Paradise.

Experience laid back afternoons window shopping or purchasing a slew of items from the tons of fashion boutiques lined in Cavill Avenue. For more fashionable items, head to the nearby Chevron Renaissance Shopping Centre.

Food lovers will enjoy the global gourmet treats available at the diverse restaurants and cafes within the area. There is definitely something for everyone on Chevron Island. Party goers will delight in finding themselves amidst the local nightlife. Jupiter's Casino is ideal for those who want to play the night anyway 24/7.

Our Self Contained Apartments Gold Coast is also near beaches and stunning natural attractions. Walk on three kilometres of golden sand and surf. Discover for yourself why Australia has one of the most popular beaches in the entire world.

Kids might want to flock to amazing thrill rides that are all easily accessible from our Karana Palms. Take your kids to Dream World's Big 8 thrill rides. Go swimming with sharks at Sea World. Know how it is to be in a movie at the Warner Brothers Movie World.

Our Self Contained Apartments Gold Coast has everything you need and more.

Book your stay now by visiting http://karanapalms.etourism.net.au.