Posted in
Accommodation
@
Sep 24th 2013 9:11am
- By Administrator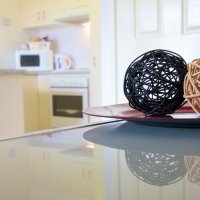 Our Surfers Paradise Resort Accommodation not just offers a slew of contemporary Chevron apartments that are fully self-contained, we are also the perfect place to stay in for families with kids in tow.

If you and your kids want a relaxed and peaceful vacation while having access to all the best attractions in the Gold Coast, Karana Palms is the place to be.

Our one-bedroom apartments possess a kitchen, ceiling fans, laundry facilities, air conditioning, clock radios, a spacious balcony and courtyard. We also have a queen-sized bed and a double sofa bed for a maximum of four guests.

Feel free to bring your kids as we have ready cots and high chairs available to hire.

One of our guests, "Cathryn C" stayed with us along with her 8-year old daughter. She finds our accommodation great "..especially with young children as its quiet and away from the hustle and bustle.

We loved our 6 day break and would choose to stay here again on our next visit for sure."

Another guest, "donny g" describe our Surfers Paradise Resort Accommodation as being in a "Great location.." and "..family friendly."

"We recently traveled to the Gold Coast for a week and stayed at the Karana Palms resort on Chevron Island. From the start all staff were very helpful and the room itself was perfect fit for me and my family plenty of room and all of the tools to make the place a happy stay. The location was perfect a short walk over the bridge to the heart of the city but back on chevron island was always relaxing and peaceful. Overall enjoyed the whole stay and will be back sooner than later."

If you have any more questions, ask our hosts Robert and Evelyn. They are more than ready to help you book your tours, listen to your stories and respond to your concerns.

Book your stay now by going to http://karanapalms.etourism.net.au.